The Ultimate Beginners Guide To SEO
Why Is SEO So Important?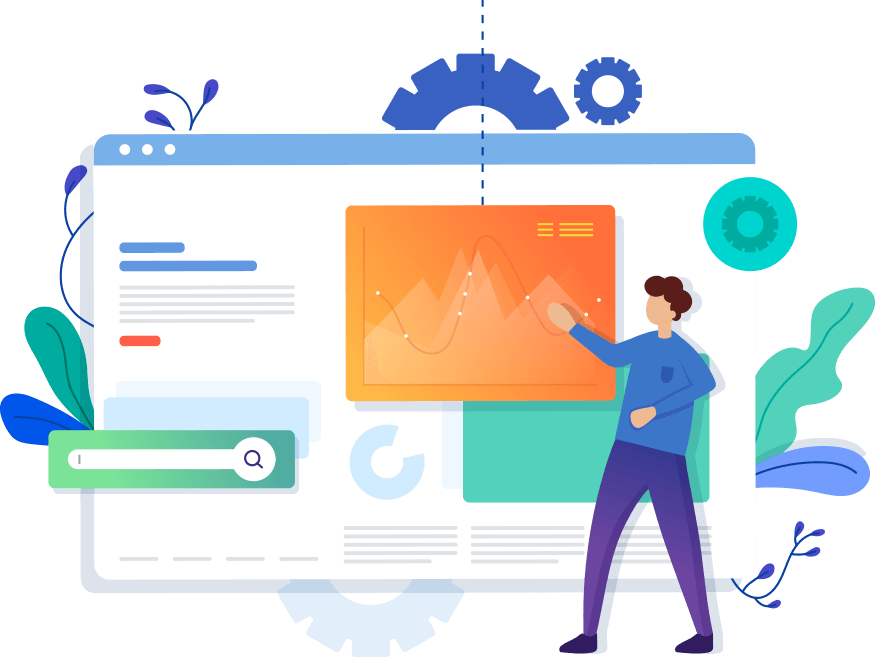 A lot of individuals employ Google's PPC (Pay Per Click) strategy, where they pay Google to place their website at the top of the search results and then pay them a certain amount each time a person clicks on the link. The industry and how competitive a keyword are what influence how much a user spends (how many other people are also paying google to rank for that keyword).
Whoever submits the highest offer will ultimately be ranked in Google Ads. Since it ends up costing most businesses a lot of money, especially if they also work with a Google Ads Agency, this is typically employed as a temporary fix. Companies may have to spend tens of millions of dollars each month to rank for some extremely competitive keywords by usually a PPC model.
It is obvious that enormous individuals and organisations are spending significant sums of money in order to rank on Google utilising a PPC technique. But there is also a technique to rank on Google naturally without paying for any advertisements (if you do it yourself). This is a long-term strategy to increase traffic to your business and is referred to as SEO or "Search Engine Optimisation".
Additionally, the quality of the traffic to your website is typically significantly higher. When you purchase a PPC Google Ads Campaign, there is an advertisement text immediately next to your website. This lets users know that you bought for the traffic, which makes them less likely to click on the website, stay there for an extended period of time, or convert into any genuine business.
Tools You Should Use
At, KBA Web, we use an SEO analysing called Ahref which shows our Traffic, keywords, backlinks, site audits & more. We use this tool to use real numbers to dictate our subsequent moves. Another similar but more expensive tool that is also very commonly used is known as SEM Rush. We recommend that anyone attempting to do SEO by themselves should use purchase one of the two tools provided so they can track their traffic and backlinks. As it's very unwise to do SEO without knowing if what you're doing is even working!
These are the steps you should take if you're looking to grow your site traffic through SEO.
1. Have a Custom SEO Strategy
Now, before you go ahead and do anything you or preferably a professional needs to plan out a custom SEO strategy. Without, a custom strategy you could end up spending tens of thousands of dollars and/or hours and hours of work for it all to go to waste.
What a Good SEO Plan Looks Like:
A Good SEO plan will be methodically planned out and should only outline the next step that needs to be taken based on the results of what was achieved. For example, in week 1 you might use black hat SEO Techniques to create 1000 backlinks and you see the website reacts negatively. Now, based on the results, it doesn't make sense for you to create another 1000 backlinks in week 2, does it? Instead, maybe you try and create 10 good-quality backlinks and now your website traffic responds positively.
What a Bad SEO Plan Looks Like:
A Bad SEO plan will usually include a general handbook that outlines what the SEO company is going to do month by month (eg. it outlines the goals and objectives from months 1 – 12) and is usually a generic handbook that is given to everyone. These strategies are not custom, whatsoever and the same handbook is given to hundreds of clients.
Although on the surface a very direct and straightforward plan that outlines what the company is going to do month by month seems like a great plan, is actually a very bad plan. All companies come in different sizes and different stages; one thing that works with one company will not work the same in another. Not to mention, a good strategy is something that is adapted based on results. But these companies will usually do what's outlined in the document rather than the results with no concern over the actions it has on the business owner.
2. Keyword Research
Before you start SEO, you need to know what keywords you want to rank for. You also need to know how much traffic these keywords will bring you and how difficult it will be to actually rank for that particular. There's no point in spending your time and money on a keyword that has no search volume or a keyword that is not too much competition to rank at your stage. At KBA Web, we use tools such as Ubersuggest or SEO Rush that provide a report of the keyword difficulty, rankings and traffic.
3. Make Your Site Crawlable
Some people might be wondering what makes a site "crawlable" or what that even means. Making your site "crawlable" means that google knows about your site and has indexed it. To check if your site has been indexed just type into the search bar the following:
site://mysite.com
If a list of website URLs with your domain name should be up, then your site has been indexed and you should skip the following steps.
If no results popup that means that you're site hasn't been indexed yet.
To index a page, you need to sign up for a Google Search Console account and you need to submit something called an XML Sitemap. Now, the process to build a Sitemap is different depending on what CMS (Content Management System) you're using. If you're using WordPress, then you should be able to just download the All-in-One SEO plugin and get a free XML sitemap which you submit to the Google Search Console Team. If your CMS isn't WordPress or you don't know your CMS, it's highly recommended that get a Web designer / SEO specialist to do it for you.
4. Optimize Your Site Speed
Lots of small businesses that manage their own SEO usually tend to ignore the site speed and don't understand the importance of your site speed. The site speed of a website not only greatly impacts the SEO, but also negatively impacts the User Experience as the Users will have to wait for the site to load and they're more likely to exit the page before it even loads. Google will see this and will rank your website lower as a result of this.
To check your website speed, you should go to Google Page Speed Test which will give you an accurate measure of what your users are experiencing and will give you a score out of 100 for both mobile and desktop devices.
Google will also give a report of what users are experiencing and a list of changes you have to make if you want to make your site faster. Because the contents in the Google Page Speed Test is usually very technical, you will need a Web designer to either fix the issues or they may even need to redesign the site.
5. Fix Any Errors
Go through your site and look for any broken links or errors on the website. Fix any grammatical errors or outdated content and make sure that the content stays consistent throughout the website. Google will see any broken links and outdated content and will be less likely to promote your content. There are two ways you can do this. The first way is to just manually go through each page looking for errors or you can use a tool such as Ubersuggest or SEM Rush which will generate a report of all the errors and pages which will be a much more efficient use of your time.
6. Make Your Website Responsive
Make sure that your site is responsive! For those of you who don't what it means to make your site responsive, it simply means that your site needs to work and be accessible on all devices and screen sizes (Laptops, Mobile Devices & Tablets). 60% of google searches are done through a mobile device. This means that if your site isn't responsive, then you'll lose 60% of your customers if your site is unresponsive. Google will see and will decrease your rankings on Google and will result in you losing more customers.
You can check if your website is responsive by testing it on multiple devices with different screen sizes. Or alternatively, you can go inspect elements or use the Ctrl + Shift + I command to inspect elements. Then you can click on the mobile device in the top left-hand corner of the console which will allow you to see how your website would like on different devices. Make sure that the content is still clearly visible and hasn't been squashed together.
7. Backlinking
Backlinking is where another site links back to your site. Google crawls through the World Wide Web and gets a list of the backlinks which is known as a "vote of confidence". There are two types of links; Do Follow and Nofollow.
No follow links are links that do not pass any SEO value to another site. You can create a No follow link by putting 'rel="nofollow"' in the anchor or linking tag. This is usually done to untrustworthy sites or in the comments of blogs to prevent SEO juice from being passed on from one site to another. Do follow links are regular links that pass SEO value to another site. In SEO, it's important to only count the Do Follow links and you should ignore the No Follow links as they provide no value in terms of SEO (No Follow links can still generate a lot of traffic without transferring any SEO value).
A website backlinking profile is measured in a unit called DA (Domain Authority) and PA (Page Authority). This gives a score out of 100 on a logarithmic scale of a website's / page's backlinking profile. So, that means that it could be harder to get a website from a DA of 60 to 61 than to get a Website from a DA of 1 to 10. This can be measured for free on the MOZ DA PA Checker. The higher the DA and PA of a page and website, generally means it will be able to rank for more keywords.
Google and the MOZ calculator also consider the quality of the backlinks. A link from a DA 90 website pass on more SEO juice than getting 1000 DA 2 websites and the DA 90 website will increase the DA and PA of your site by a substantial amount. Google and the MOZ calculator also consider; how many websites the linking website link to also known as "Outbound links".
A website that links to 200 different domains will pass a higher Domain Authority than a website that links to 300,000 different Domains. Keep in mind that google takes the number of referring domains (the number of domains that link to you, this will count as one link in the entire domain) instead of your backlinks (the number of times your domain has been linked to, this could be multiple times in a page).
A good way of increasing your Domain Authority is by using White Hat SEO backlinking techniques (an ethical method of SEO that yields slower but more sustainable results) instead of spamming your link on the World Wide Web or using Black Hat SEO techniques. It's better to get a couple of good-quality links than a thousand spammy links. A good way to do this is through guest blogging.
Guest Blogging is where you write blogs for reputable companies or websites that already have a high Domain Authority. You propose a blog idea, and you write a blog for a company. This saves them time and money as they don't need to write a blog themselves and get a professional in the field that may have a lot more experience in the topic, than the blog writers.
You then usually get a Do Follow link back to your website in the blog or in the author section which helps increase your SEO and Domain Authority through Backlinking. You should email the editors a customized email with their names and a compliment at the beginning of the email. Then you should state the blog you want to write for the company, and you should also check the Domain Authority of the website you're blogging for to make sure that it's at least higher than yours.
Another good ethical way of increasing your Domain Authority is to use a tool like Ubersuggest or SEM Rush to get a list of domains that your competitors are getting links to. You should also be able to get a Backlink Audit from these SEO analysing tools. You should then email out the owners/editors of that website with better content than your competitors in hopes that they'll link back to you.
8. Increase Your Site's "Time on Page"
"Time on Page" is the Google metric of the average viewing time on your website. Google will rank websites that keep users on their pages for longer periods of time. As Google sees this viewing time as a positive signal that the website is useful and unique.
To increase your "Time on Page", it's important to add a lot of content for website users to read and to put plenty of videos to engage your user and make them stay on the website for longer periods of time. Preferrable you should get a professional website designer or agency to code a custom build website to make the user engaged for a longer period of time and for the user to take an action (which will result in a conversion).
9. Content Optimization
While you're building a solid backlinking profile, you should also start optimizing your content to better suit "search intent". Including targeted keywords into the URL, Title, Headings and content of the page show Google what your page/site is about and is able to better index it in the search console. You should also create multiple pages each targeting different keywords instead of spreading your keywords throughout the page.
Type a keyword you want to rank for and check the competition to see if how many times they've used that keyword in their title, headings and throughout their content. While you increase your Domain Authority and Page Authority, you should also focus on optimizing your content and putting keywords throughout your content.
Although, it's also strongly advised not to employ tactics such as keyword stuffing. Keyword stuffing is where you stuff as many keywords as you can with no regard no user experience to the point where sentences aren't formed, and nothing makes sense to the user to increase your SEO due to having more keywords. Google will see this keyword stuffing and will see that users are staying on your site for a very short period of time.
10. Landing Pages
An SEO Landing Page is a specific page that is designed to solely rank and generate traffic through SEO. SEO Landing Pages are not usually on the navigation bar, footer or content of a website and you can only find them by Google Search. Although creating these landing pages is time-consuming and costs a lot of money for each targeted keyword and city, it is extremely rewarding to do. There are companies that spend millions and millions of dollars a month on SEO where they hire a team to create pages to target different keywords, locations and even languages.
These are just some simple tips and tricks to increase your SEO. Although, you should also have a consultation with a professional that can help you reach that next level when it comes to your online presence. At, KBA Web, we work with businesses small and big to help build their websites and we provide SEO services!
Have any enquiries or further information?